Where I Scratch Out Assvice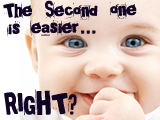 I've been asked to participate in the virtual shower for
Her Bad Mother
,
Mrs. Chicky
, and
Mrs. Chicken
, three
bad mothers you know so well
lovely ladies that are all about to
ruin
change their lives with the addition of a second child. I feel like a rooster in her bad hen house.
I'm supposed to offer what I can in the way of ass/advice regarding the transition from one child to two. If
DON'T DO IT
is no longer an option then I can only think of one thing. Forget the Diaper Genies and bottle warmers of the world, you need these:
If you buy now I'll even throw in the handsome models (at a discount rate). Just don't let them catch you hitting the 'hill people's milk' or you'll find yourself in an awkward situation.
The safety word is "please."