With a Little Help from My Friends
I was feeling a bit blocked the other day. No, the pipes are fine, I maintain a solid (usually) two-a-day (increase by one for every 3 beers consumed). The blockage was a mental one.

I wouldn't say that I was suffering from writer's block, because I had ideas- they were just more of the same. I think the tone of my posts lately have all been similar and I'm a guy that likes to mix it up. That's what makes me Kick Ass (at least in DC Urban Dad's opinion, which is the only one that matters now).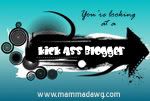 See? When's the last time anyone else said something nice about me behind my back? That's what I thought.
You know the rules. I'm supposed to pass on the honor to 5 deserving bloggers, which is usually quite hard as we're all winners here, but today it's a little easier. I'm going with the plumbers.
They came to fix the sink.
I was blocked, as I mentioned, and per usual when I find myself in times of trouble mother (and daddy) bloggers come to me. Words of wisdom and all that. I opened up in a heartfelt 140 characters or less and the four bloggers pictured above helped a brother out. With Twitter you're never alone, but you're often with a whale.
My 5 kick ass bloggers are:
Ed from
Zoe's Dad
. Don't let the title fool you, Ed has more than one kid (14 kids under the age of three or something like that), but Zoe is apparently his favorite.
Stefania from
City Mama
. Once upon a time she was my boss and as such she would fill my IM box with random links to internet greatness ( sometimes work-related). She pretty much ignores me now EXCEPT WHEN I REALLY NEEDED HER.
Matthew from
ChildsPlayx2
. Matthew goes on my short list of all-time bloggers, and that has nothing to do with his drinking beer with me on several occasions.
Brandon from
Down With Pants
! I met Brandon at the first, now infamous (that's
more
than famous), L.A. blogger party. He has since moved back to Washington and I have hope of seeing him some day at a Seattle blogger party. The sooner the better.
My 5th plumber/kick ass blogger goes to Mitch of
Mitch McDad's World
who hit me with an interesting meme/game that I plan on posting in the next day or two. Mitch was too shy to help me on Twitter and most likely didn't even read my tweet. That's okay. I'll take what I can get.
Damn, this post got away from me. I was going to honor their suggestions here, but I think I'll save them for the next(ish) post. Stay tuned true-believers!
Labels: Bloggers I've Met, Blogs, Friends, meme, twitter